Ahi Tuna Burgers
with Hoisin Honey Mustard & Plantain Chips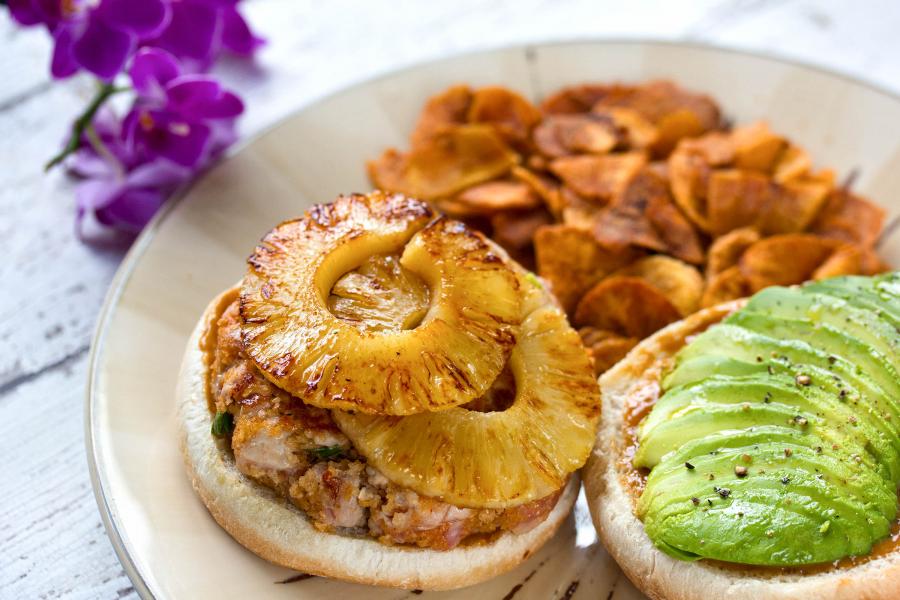 Serves : 2
Calories : 498
Ingredients
8 oz Ahi Tuna
2 Green Onions
1 t. Fresh Ginger
1 Hass Avocado
2 Buns
4 Slices Pineapple
1/2 Bag Sweet Plantain Chips
1/2 T. Sesame Seeds
1/3 C. Panko Bread Crumbs
1 t. Sriracha
Asian Glaze:
2 T. Mayonnaise
1 T. Soy Sauce
1/2 T. Sesame Oil
Dijon/Hoisin:
1.5 T. Dijon Mustard
1 T. Hoisin Sauce
1 t. Honey

---
Prepare Your Ingredients
Wash and dry the produce.
Thinly slice the green onions (greens and whites).
Grate the ginger to make about 1 tsp.
Pat the tuna steaks dry, finely chop them, and place in a large bowl along with the green onions and ginger.

Make the Patties
Add the panko, sesame seeds, asian glaze and 1 tsp sriracha (more for spicier), to the bowl with the tuna.
Mix well to combine.
Divide the tuna mixture into 2 equal portions and shape into patties.

Cook the Burgers
Heat ½ Tbsp. Olive oil in a large non-stick pan over medium-high until hot.
Place the patties in the pan and sear for about 1 minute on each side for medium doneness (add more oil if pan dries).
Remove patties from pan.
Add the pineapple slices and cook until browned; 1-2 minutes per side.

Plating
Toast the buns if desired.
Cut the avocado in half, remove seed and use a spoon to scoop out each half.
Place avocado halves flat side down, cut into very thin slices, and sprinkle with a little salt and pepper.
Spread the honey hoisin mustard on both sides of each bun.
Top the ahi tuna burgers with grilled pineapple, and fresh avocado slices.
Serve warm with plantain chips on the side.
Enjoy!

Serves : 2
Calories : 498
Ingredients
8 oz Ahi Tuna
2 Green Onions
1 t. Fresh Ginger
1 Hass Avocado
2 Buns
4 Slices Pineapple
1/2 Bag Sweet Plantain Chips
1/2 T. Sesame Seeds
1/3 C. Panko Bread Crumbs
1 t. Sriracha
Asian Glaze:
2 T. Mayonnaise
1 T. Soy Sauce
1/2 T. Sesame Oil
Dijon/Hoisin:
1.5 T. Dijon Mustard
1 T. Hoisin Sauce
1 t. Honey

---
Chicken Breast
Pat chicken dry, season with salt and pepper. Heat 1/2 Tbsp. olive oil over medium heat and cook 3-4 minutes per side. Serve with seared pineapple, avocado, sliced green onion, and Dijon/Hoisin on the bun.

Mahi-Mahi
Follow instructions as for tuna.

Jackfruit
Drain, rinse, squeeze out excessive moisture, and finely chop. Continue instructions as for tuna.

Vegan Fish
Toaster oven 425 F 10 minutes per side. Serve with seared pineapple, avocado, sliced green onion, and Dijon/Hoisin on the bun.

Beyond Beef
Heat a little olive oil in a pan over medium heat. Prepare as for tuna. Cook 4-5 minutes on each side or until browned on the outside and an internal temp of 165° is reached.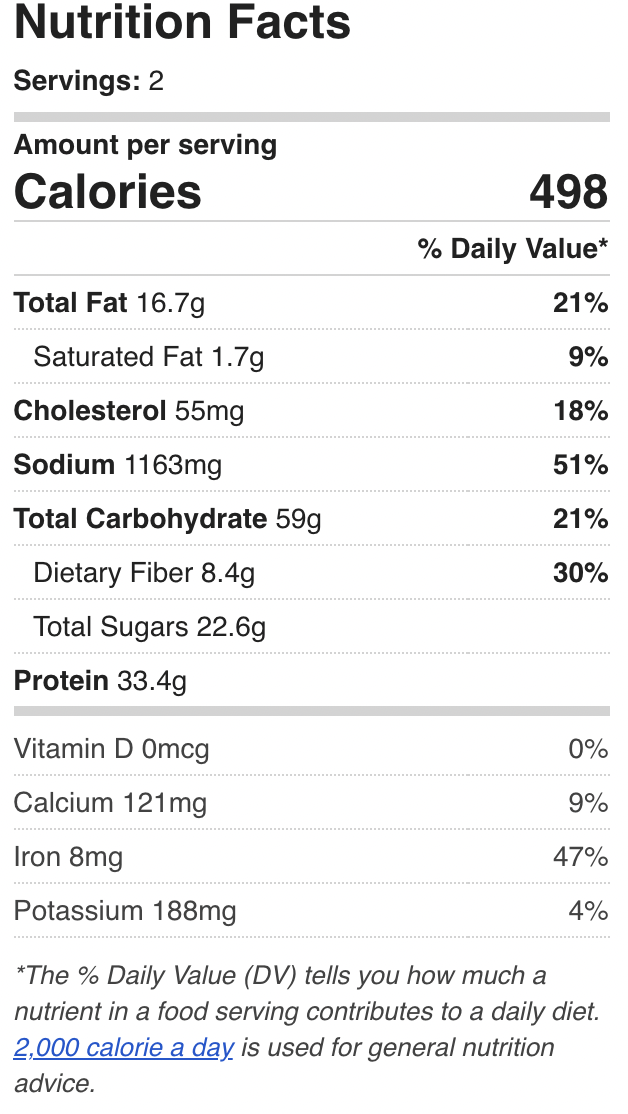 Use a spoon to peel your ginger before grating.
View Cooking Video