Why Cook with Chef Ami?
Farm Fresh
Hand-selected from local farms to your door in under 24 hrs.
Giving Back
3 meals purchased = 3 meals donated
No waste
We pick up, clean & reuse our packaging each week.
Save time and start eating healthier today!
We include everything you need to cook 2, 3, or 4 complete meals.
All you need is salt, pepper, olive oil and about 30 minutes.
Start Cooking

Choose from 4
exciting

new recipes each week!
On the menu

Menu

for the week of

December 19th

Start Cooking
What's comes in the meal kit?
Delicious seasonal recipes with easy to follow, step by step instructions.
Pre-portioned, quality ingredients, many of which come straight from the farm to your table in 24 hrs.
Convenient, meal kit bags that keep your ingredients and recipes neat and organized.
Reusable, green packging that we pick up, clean out and reuse multiple times.
FAQ
What do our customers think?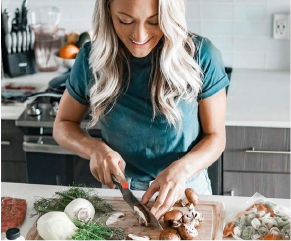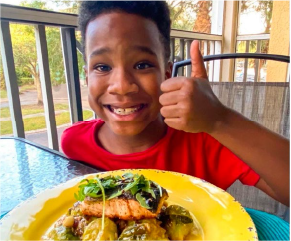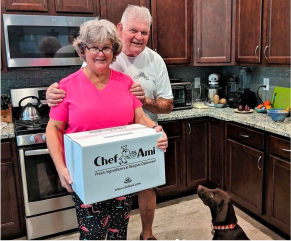 Look forward to fresh & local ingredients
Many of our ingredients come straight from the local farm to your door in under 24 hrs. We're sure you'll be able to taste the freshness!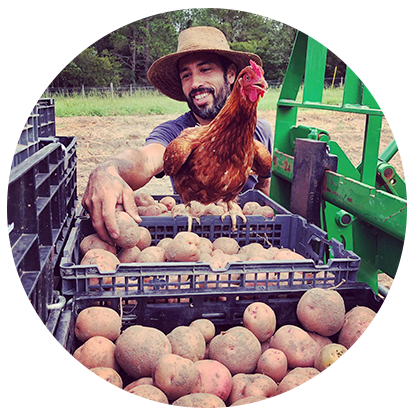 Vegetables, Eggs
Swallowtail Farm, Gainesville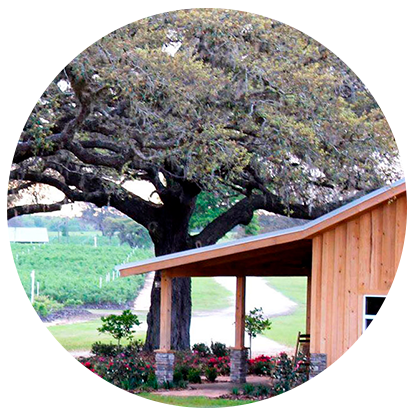 Fruit
Red White and Blues Farm, Williston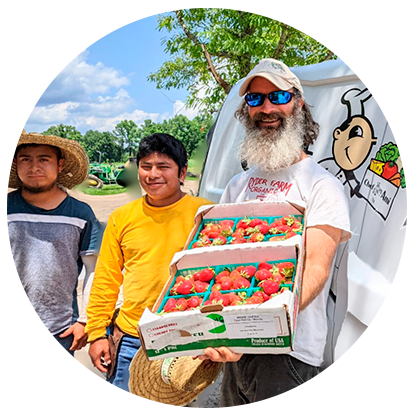 Vegetables
Frog Song Organics, Hawthorne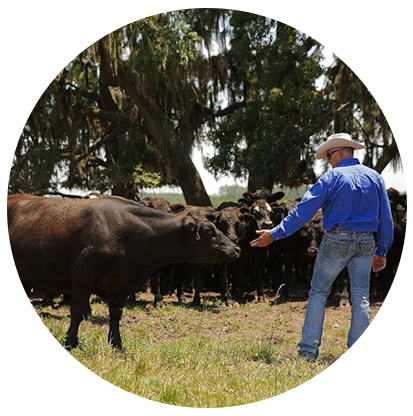 More about our Local Suppliers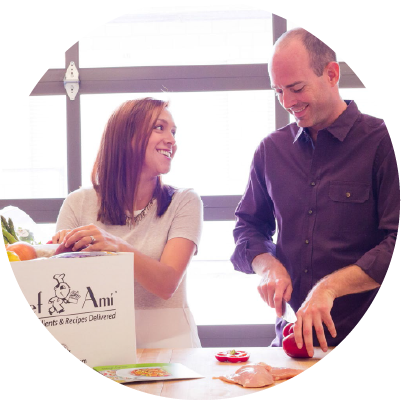 "Taste the world's greatest cuisines through our recipes."
Hi! We are Johana and Matt. Having lived in South America and Europe for many years, we fell in love with and learned to prepare a wide variety of international cuisines. With our passion for cooking and travel, we aim to provide you with enrichening culinary experiences. We offer healthy, delicious and convenient meals for you and your family. Take a culinary trip around the world with us each week as we share our family recipes with you.
Johana & Matt Dickhaus
We are Chef Ami
Feeling Hungry?
Starting from just $10.63 per serving.
Get Started
No commitment. Skip or cancel meals easily from your account.

Surprise your friends with a gift voucher

The perfect gift for stress free and delicious meals.