Almond Crusted Chicken
with a Strawberry Balsamic Reduction & Spinach Salad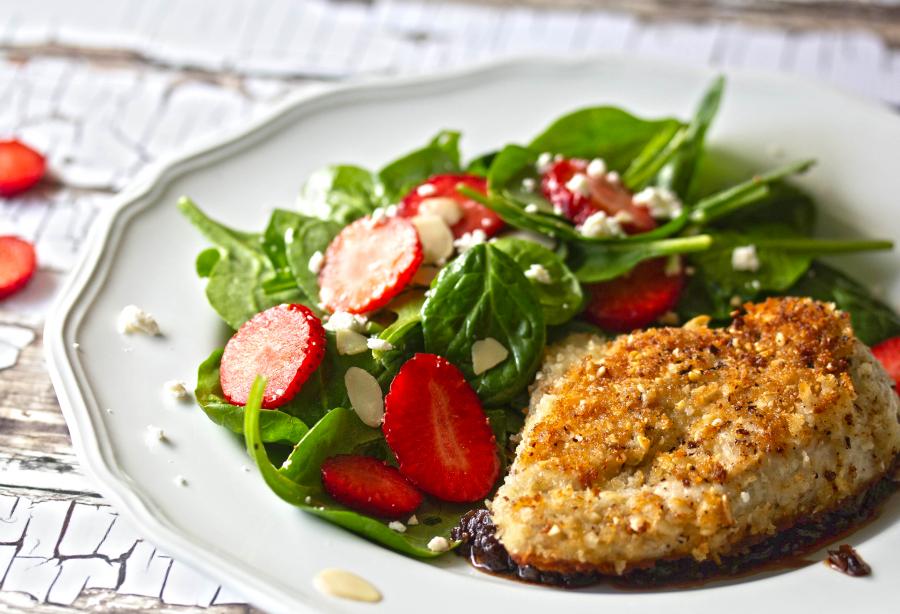 Serves : 2
Calories : 443
Ingredients
2 Chicken Breasts
1 Shallot
1 Garlic Clove
1 Sprig Rosemary
2 oz. Spinach
4 oz. Strawberries
1/6 C. Chicken Broth
2.5 T. Strawberry Preserves
3.5 T. Balsamic Vinegar
1/8 C. Feta Cheese
1/2 t. Brown Sugar
1/4 C. Panko
3 T. Sliced Almonds
1 Egg

---
Prepare Your Ingredients
Wash and dry your produce.
Finely chop or grind all but ¼ of the almonds, and mix together in a flat dish with the panko, salt, and pepper.
Small dice the shallot.
Thinly slice the strawberries and place in a salad bowl.
Mince 1 clove garlic.
Beat the egg in a bowl.

Cook the Chicken
Heat 1 Tbsp. olive oil in a medium pan over medium heat.
While the pan is heating, dip the chicken, one breast at a time, in the egg.
Next, place in the panko mixture, coating it on both sides.
Shake lightly to remove excess bread crumbs.
Cook chicken 4-5 minutes per side or until cooked through (add ½ Tbsp. olive oil when you flip sides).
Set aside and cover to keep warm.

Make the Vinaigrette and Salad
In a small bowl, whisk together ½ Tbsp. balsamic vinegar (save rest for later), the brown sugar, 2 Tbsp. olive oil, and the garlic.
Taste and adjust to your liking with salt and pepper.
Add the spinach, remaining almonds, and feta to the bowl of sliced strawberries.

Make Balsamic Glaze
When the chicken is done cooking, remove pan from heat and allow to cool down for about a minute.
In the same pan, heat ½ Tbsp. olive oil over medium heat and cook the shallots for 2-3 minutes (add oil of pan dries).
Add the broth, strawberry preserves, remaining balsamic vinegar, and the entire sprig of rosemary.
Use a wooden spoon to mix and loosen the browned bits from the pan bottom.
Bring to a boil, reduce heat to a low simmer, and cook stirring frequently until thickened; 2-3 minutes.
Taste and adjust to your liking with salt.
Remove rosemary sprig before serving.

Plating
Toss the salad with the balsamic vinaigrette and divide it evenly between your plates.
Place a bit of the balsamic glaze on each plate and top with the chicken.
Pour remaining glaze over the top of each chicken breast and enjoy!

Serves : 2
Calories : 443
Ingredients
2 Chicken Breasts
1 Shallot
1 Garlic Clove
1 Sprig Rosemary
2 oz. Spinach
4 oz. Strawberries
1/6 C. Chicken Broth
2.5 T. Strawberry Preserves
3.5 T. Balsamic Vinegar
1/8 C. Feta Cheese
1/2 t. Brown Sugar
1/4 C. Panko
3 T. Sliced Almonds
1 Egg

---
Pork Chop
Follow recipe instructions.

Vegan Chicken
Preheat oven to bake at 450°F. Place breast on an ungreased baking pan. Bake approximately 9 minutes. Flip and bake an additional 7-8 minutes until heated through. Follow recipe instructions.

Tempeh
Boil 10 minutes in water/broth then season with salt and pepper. Prep according to recipe instructions but reduce cook time to 2-3 minutes per side.