Asian Lettuce Wraps
with Ginger Sriracha Sauce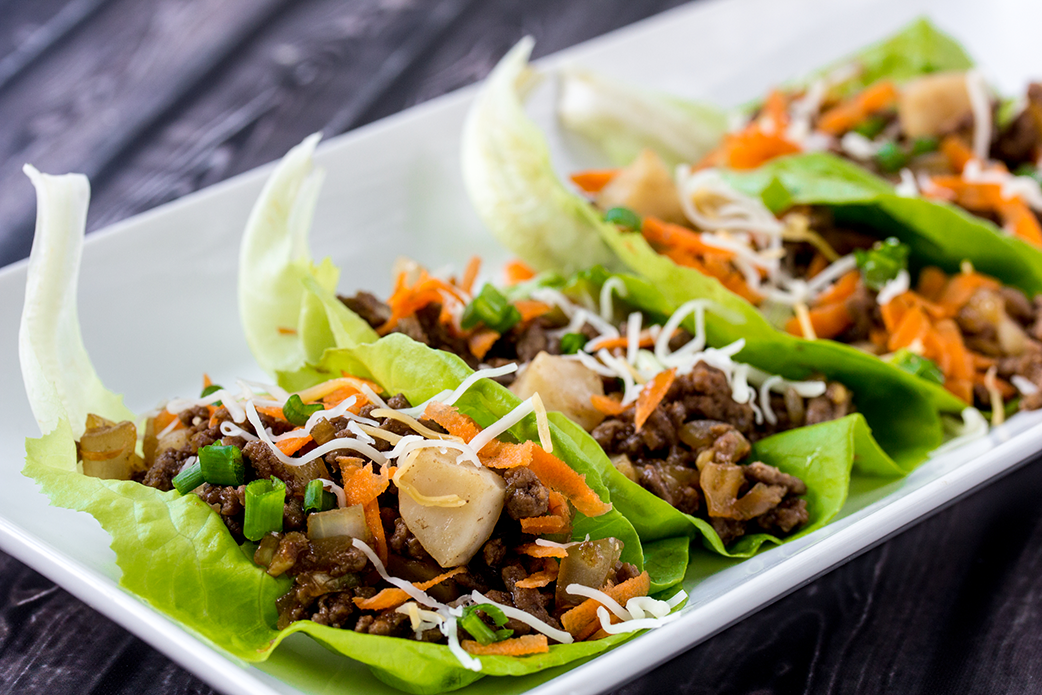 Serves : 2
Calories : 454
Ingredients
12 oz. Ground Beef
1 C. Diced Yellow Onion
2 Cloves Garlic
1-2 Green Onions
½ Carrot
1 oz. Piece Ginger
4-6 Romaine Leaves (hearts)
1 tsp. Sriracha
½ C. Mexican Cheese Blend
2 oz. Sliced Water Chestnuts
Asian Glaze:
2 Tbsp Hoisin Sauce
½ Tbsp Rice Wine Vinegar
1 Tbsp Soy Sauce

---
Prepare Your Ingredients
Wash and dry your produce.
Grate the ginger to make ½ Tbsp.
Peel and grate ½ the carrot (use all if small).
Roughly chop the water chestnuts.
Thinly slice the green onion(s).
Finely chop the yellow onion.
Mince 2 cloves garlic.

Cook the Meat
Heat ½ Tbsp. olive oil in a large pan over medium-high heat.
Add the ground beef and use a wooden spoon to break it apart into smaller pieces.
Season with salt and pepper to taste.
Cook until browned and cooked through; 3-4 minutes.
Drain fat from beef and place back in pan.

Make the Ginger Sriracha Sauce
Add the asian glaze, 1 tsp. sriracha, yellow onion, garlic, and the ginger to the pan with the beef.
Mix, and cook for 3-4 minutes.
Add the water chestnuts into the pan and mix for 15 seconds.
Remove pan from heat.

Plating
Divide lettuce between your plates and spoon the beef mixture into the leaves.
Top with grated carrots, green onions, and cheese.
Enjoy!

Serves : 2
Calories : 454
Ingredients
12 oz. Ground Beef
1 C. Diced Yellow Onion
2 Cloves Garlic
1-2 Green Onions
½ Carrot
1 oz. Piece Ginger
4-6 Romaine Leaves (hearts)
1 tsp. Sriracha
½ C. Mexican Cheese Blend
2 oz. Sliced Water Chestnuts
Asian Glaze:
2 Tbsp Hoisin Sauce
½ Tbsp Rice Wine Vinegar
1 Tbsp Soy Sauce

---
Ground Turkey or Pork
Follow instructions as for ground beef.

Beyond Beef
Heat a little olive oil in a pan over medium heat. Cook 4-5 minutes on each side or until browned on the outside and an internal temp of 165° is reached. Break apart and follow recipe.

Jackfruit
Drain, rinse, and break apart into small pieces. Heat a little oil in a pan and cook for 4-5 minutes over medium-high heat.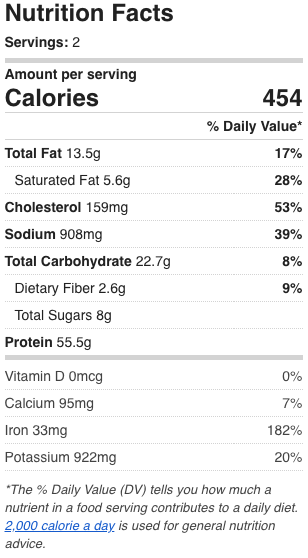 View Cooking Video