Baked Pesto Chicken
with Pignoli & Sun-dried Tomatoes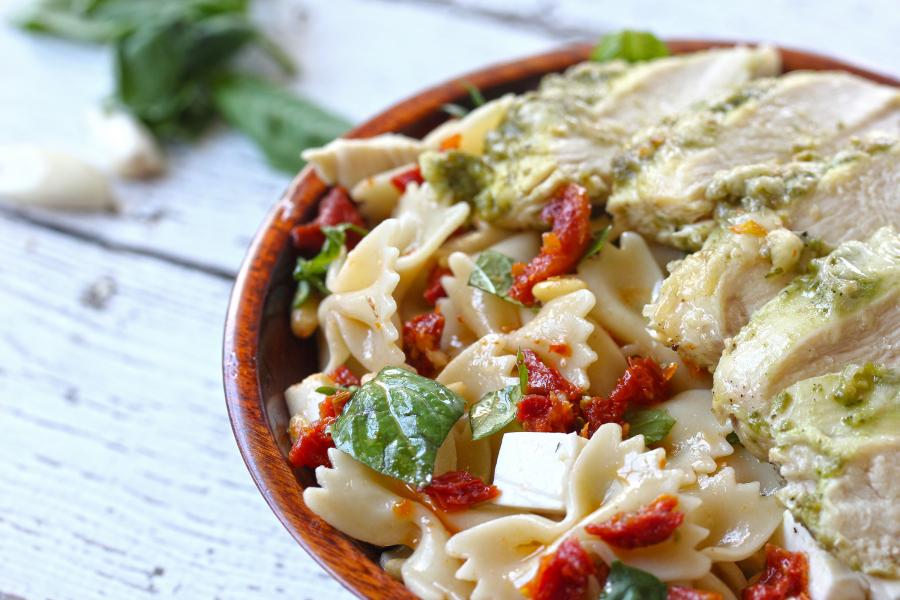 Serves : 2
Calories : 777
Ingredients
2 Chicken Breasts
4 oz. Fresh Mozzarella
2 Tbsp. Fresh Basil
1 Garlic Clove
¼ C. Basil Pesto
2 T. Parmesan
4 oz. Bow Tie Pasta
2 T. Pine Nuts
1/3 C. (2.1 oz) Sun-Dried Tomatoes
Oil Mix:
1.5 T. Sesame Oil
1.5 T. Peanut Oil
1 T. White Wine Vinegar

---
Prepare Your Ingredients
Wash and dry produce. Preheat oven to 400° F.
Bring a medium pot of salted water to a boil.
Mince 1 garlic clove.
Dice the sun-dried tomatoes and mozzarella, and place in a large salad bowl
Roughly chop the basil to make about 2 Tbsp. and add to the salad bowl
Pat the chicken breasts dry and place in a rimmed baking dish.

Cook the Chicken & Toast the Pine Nuts
Foil-line and lightly grease a small baking pan/sheet.
Spread the pine nuts on the pan, and place in the oven to toast for 2 minutes; remove from heat and set aside.
Pour pesto over the chicken and rub to coat on both sides.
Season with salt and pepper, then evenly top each chicken breast with parmesan cheese.
Bake for 15-20 minutes.
Remove from heat, place chicken on cutting board and allow to rest for 5 minutes before serving.

Cook the Pasta & Make the Salad
Add the pasta to the boiling water, and cook until al dente; 12-15 minutes.
Rinse, drain, and place pasta in the salad bowl along with the toasted pine nuts, then toss together.

Make the Vinaigrette
Add the oil mix and garlic to a small bowl, and season with salt to taste.
Whisk together until well blended.
Pour the vinaigrette over the pasta salad, and toss again.

Plating
Slice chicken into ½" strips or chop into bite sized pieces.
Divide the pasta salad between your dishes and top with chicken, or place on the side.
Enjoy!

Serves : 2
Calories : 777
Ingredients
2 Chicken Breasts
4 oz. Fresh Mozzarella
2 Tbsp. Fresh Basil
1 Garlic Clove
¼ C. Basil Pesto
2 T. Parmesan
4 oz. Bow Tie Pasta
2 T. Pine Nuts
1/3 C. (2.1 oz) Sun-Dried Tomatoes
Oil Mix:
1.5 T. Sesame Oil
1.5 T. Peanut Oil
1 T. White Wine Vinegar

---
Mahi-Mahi
Follow recipe instructions.

Vegan Chicken
Preheat oven 450°F. Place Chickenless Breast on an ungreased baking pan and bake approximately 9 minutes. Flip and pour pesto over and top with parmesan cheese. Bake an additional 9 minutes until heated through.

Pork Chop
Pat dry with paper towels and season with salt and pepper. Heat 1/2 Tbsp. olive oil in a large pan over medium-high heat. Cook 2-3 minutes per side or until internal temp of 140° F is reached.

Portobello
Use a damp cloth to clean the tops, then remove the stem and gills from the mushrooms. Pour pesto over and rub on both sides, and season with salt and pepper. Turn mushroom gills side up and top with parmesan cheese. Follow recipe instructions.