Blackened Mahi-Mahi Tacos
with Peach Salsa & Mexican Street Corn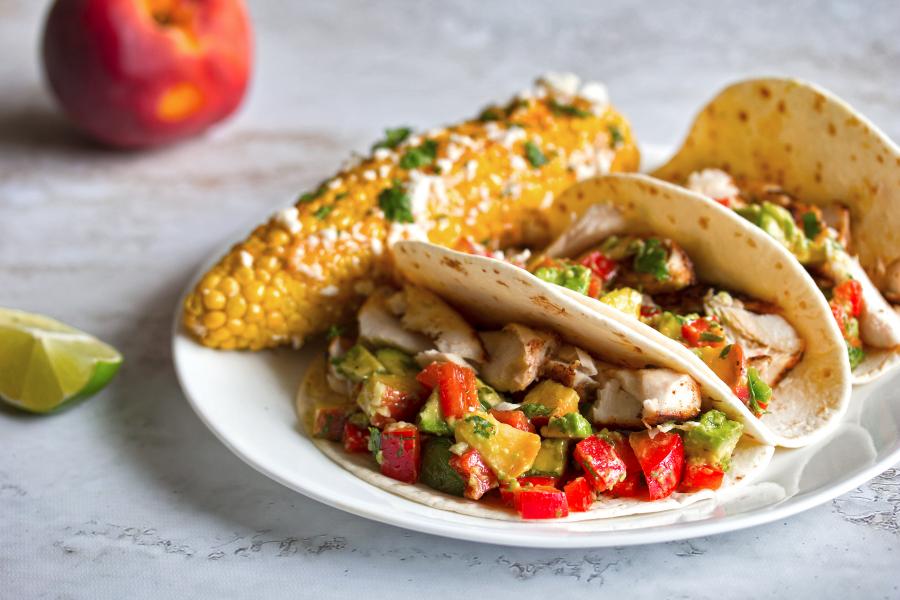 Serves : 2
Calories : 686
Ingredients
10 oz. Mahi-Mahi
2 Ears Corn
1 Avocado
1 Peach
3 Tbsp. Cilantro
½ Jalapeno
1 Sweet Mini or Small Red Bell Pepper
1 Lime
4 Cloves Garlic
1 Packet Blackened Seasoning
(6) 6" Tortillas (fluffy)
2 Tbsp. Mayo
¼ tsp. Chili Powder
⅓ C. Cotija Cheese

---
Prepare Your Ingredient
Preheat oven to 450° F.
Wash and dry your fresh produce.
Peel, pit, and medium dice 1 peach.
Small dice the avocado, ½ the red bell pepper (use all if small), and ½ the jalapeño.
Place everything in a medium bowl along with the peach.
Discard thick stems from the cilantro and roughly chop to make about 3 Tbsp.
Mice 4 garlic cloves.
Add 2 Tbsp. cilantro and ¾ of the minced garlic to the bowl with the diced veggies.
Peel the corn and discard the husks.
Pat fish dry and season on both sides with the blackened seasoning.
When the oven is hot, place the corn directly on the rack and roast for 20-25 minutes.

Finish the Salsa
Add the juice of ½ lime and 1-2 Tbsp. olive oil, to the diced veggies.
Season with salt and pepper to taste and set aside.

Cook the Fish
While the corn cooks, heat 1 Tbsp. olive oil in a large pan over medium heat.
Add the fish and cook 3-5 minutes per side or until meat flakes away when probed with a fork, (add oil if pan dries).
Remove from heat and break fillets into pieces using your spatula.

Warm the Tortillas
When the corn is finished, turn off the oven and place the foil wrapped tortillas in the oven to warm up.

Make the Street Corn
In a small bowl, mix together the mayo, remaining garlic, ½ the chili powder, and all but a pinch of cilantro.
Crumble and spread out the cotija cheese on a shallow dish large enough to fit the ears of corn.
When the corn is done cooking, spread/brush the mayonnaise mixture on all sides of the corn.
Next, lightly roll corn in the cheese and top with a little more chili powder and cilantro if desired.

Plating
Divide the fish and salsa between the tortilla shells.
Serve an ear of corn on each plate, drizzle with some lime juice, and garnish with remaining cilantro.
Enjoy!

Serves : 2
Calories : 686
Ingredients
10 oz. Mahi-Mahi
2 Ears Corn
1 Avocado
1 Peach
3 Tbsp. Cilantro
½ Jalapeno
1 Sweet Mini or Small Red Bell Pepper
1 Lime
4 Cloves Garlic
1 Packet Blackened Seasoning
(6) 6" Tortillas (fluffy)
2 Tbsp. Mayo
¼ tsp. Chili Powder
⅓ C. Cotija Cheese

---
Chicken Breast
Pat chicken dry, season with blackened seasoning. Heat 1/2 Tbsp. olive oil over medium heat and cook 3-4 minutes per side. Set aside for a few minutes, then slice before serving.

Shrimp
Pat dry, and season with blackened seasoning. Heat 1/2 Tbsp. olive oil over medium heat and cook 1-2 minutes per side or until pink and opaque.

Tofu
Press until dry, season with the blackened seasoning, and cut into cubes. Add a small amount of oil to a non-stick skillet and heat over medium high heat. Add tofu to pan and brown on each side for about 1-2 minutes.

Vegan Fish
Oven or toaster oven 425° F for 10 minutes per side.