Chipotle Citrus Pork
with Garlic Roasted Brussels Sprouts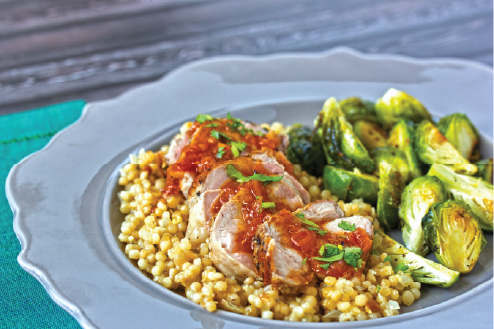 Ingredients
12 oz. Pork Tenderloin
6 Garlic Cloves
1 Lemon
1 Shallot
1 C. Diced Yellow Onion
10 - 15 Brussels Sprouts
¼ t. Chipotle Powder
½ T. Butter
¾ C. Israeli Couscous
Orange/Broth Mix:
2.5 oz. Orange Juice
2.5 oz. Chicken Broth

Serves 2
(624 calories per serving)
Cooktime
---
Tools : Baking Sheet • Medium Pot • Large Pan (oven-proof) • Small Bowl
Prepare Your Ingredients
Wash and dry your produce and preheat the oven to 400° F.
Finely chop the shallot.
Mince 6 garlic cloves.
Trim the stems of the brussels sprouts and discard any of the loose leaves, then cut in half (quarters if large).
Place on a foil lined baking sheet.
Pat the pork dry with a paper towel and season with salt and pepper.

Roast the Brussels Sprouts
Add 1/3 of the garlic to the brussels sprouts and toss to coat with olive oil.
Season generously with salt and pepper then toss again.
Roast for 15-20 minutes, tossing to mix halfway through.
Remove from oven, tent with foil, and set aside.
Leave the oven on to cook the pork.

Cook the Couscous
Heat 1 Tbsp olive oil in a medium pot over medium heat.
Add the onions and saute until crisp tender, about 5 minutes.
Add ½ of the remaining garlic and cook for about 30 seconds.
Add the couscous, and 1 cup water, then simmer uncovered until liquid is absorbed; about 10 minutes.
Add a little salt and stir, then remove from stove and set aside covered.

Cook the Pork
Heat 1 Tbsp. olive oil in a large pan or skillet (oven-proof if you have one) over medium-high heat.
Add the pork and cook 2 - 3 minutes per side (add oil if pan dries).
Transfer skillet to the oven (or use a baking sheet) and roast for 7 - 10 minutes.
When done, place pork on a cutting board to rest.

Deglaze the Pan to Make the Sauce
In a small bowl, combine the orange/broth mix, remaining garlic, juice of 1 lemon, shallots, and ½ the chipotle powder (all for spicier), then mix well to combine.
Heat the skillet you cooked the pork in over medium-high heat without cleaning it out.
Pour in the sauce and bring to a boil stirring to loosen any browned bits from the pan bottom.
Lower the heat and simmer for about 5 minutes or until reduced by about half.
When reduced, stir in the butter until melted, and remove from heat.

Plating
Divide the couscous between your plates. Cut the pork into thin slices and place over the couscous.
Drizzle sauce over top, serve brussels sprouts alongside and enjoy!

Ingredients
12 oz. Pork Tenderloin
6 Garlic Cloves
1 Lemon
1 Shallot
1 C. Diced Yellow Onion
10 - 15 Brussels Sprouts
¼ t. Chipotle Powder
½ T. Butter
¾ C. Israeli Couscous
Orange/Broth Mix:
2.5 oz. Orange Juice
2.5 oz. Chicken Broth

Serves 2
(624 calories per serving)
Cooktime
---
Chicken Breast
Follow recipe instructions.

Portobello
Preheat oven to 400° F. Use a damp cloth to clean the tops, then remove the stem and gills from the mushrooms. Brush with olive oil and season with salt, pepper. Place in the oven gills up and bake for about 15-20 minutes.

Tempeh
Boil 10 minutes in water/broth then season and sear 2 minutes per side over medium-high.

Seitan
Break into bite-sized pieces and saute over medium heat until heated through. Follow recipe.