Greek Style Meatballs
with Lemon-Herb Orzo Skillet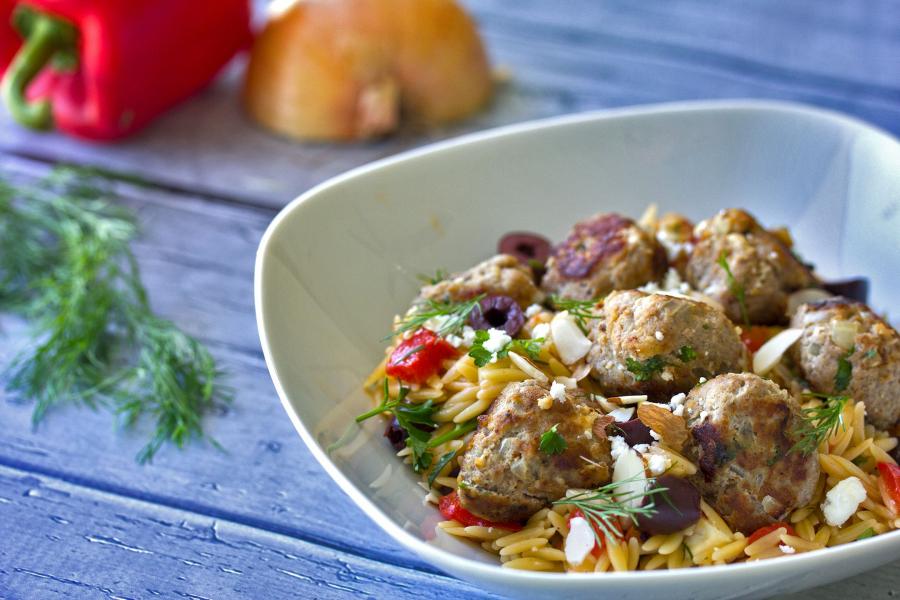 Serves : 2
Calories : 526
Ingredients
8 oz. Ground Turkey
¾ C. Orzo
1 C. Chicken Broth
12 Kalamata Olives
2.5 oz. Diced Roasted Red Peppers (weight w/o liquid)
3 T. Panko
1 Bunch Parsley
½ Small Onion
2 Garlic Cloves
1-2 Sprigs Dill
1 Lemon
1 Egg
2 oz. Feta Cheese
1 T. Sliced Almonds
Spice Mix: ⅛ tsp. Cinnamon
¼ tsp Cumin
¼ tsp Coriander
½ tsp Oregano

---
Prep Your Ingredients
Wash and dry your fresh produce.
Large dice the Roasted Red Peppers.
Halve the olives.
Roughly chop the dill to make about 2 Tbsp.
Place ground turkey in a medium bowl (pat dry if needed).
Chop the parsley to make about 3 Tbsp, and add 2/3 of it to the turkey.
Mince the diced onion to make about 2 Tbsp; add to the turkey.
Mince 2 cloves garlic, and add half of it to the turkey.
Zest ½ lemon(use all if small) into the bowl of turkey.
Squeeze in the juice of ½ lemon (save other half for later).
Whisk an egg, and add half of it to the turkey (discard remainder).
Add the panko, spice mix, and half of the feta to the mixture.

Make the Meatballs
Drizzle ½ Tbsp olive oil over the mixture and season with salt and pepper to taste.
Use your hands to combine the ingredients and form into 10-12 meatballs.
Heat 1 Tbsp. olive oil in a large pan over medium heat.
When hot, add the meatballs and cook turning often for 6-8 minutes, or until cooked through (160°F) and nicely
browned; (lower heat if needed so they don't burn).
Remove meatballs from pan, and tent with foil to keep warm.
Wipe out the pan.

Cook the Orzo
In the same pan, heat 1 Tbsp. olive oil over medium heat.
Add the orzo and remaining garlic; mix to toast, for about 1 minute.
Stir in the chicken broth, ½ cup water, roasted red peppers, and juice of the remaining ½ lemon.
Bring to a simmer, and cook 8 mins, stirring frequently until tender and water is absorbed.
(If orzo is too firm, add an additional 1-2 Tbsp. water and cook for another 2 minutes.)
Remove pan from heat, stir in the olives, dill, and all but a pinch of the remaining parsley and feta.

Plating
Divide the orzo mixture between your dishes and top with the meatballs.
Sprinkle in sliced almonds, feta, and remaining herbs. Enjoy!


Serves : 2
Calories : 526
Ingredients
8 oz. Ground Turkey
¾ C. Orzo
1 C. Chicken Broth
12 Kalamata Olives
2.5 oz. Diced Roasted Red Peppers (weight w/o liquid)
3 T. Panko
1 Bunch Parsley
½ Small Onion
2 Garlic Cloves
1-2 Sprigs Dill
1 Lemon
1 Egg
2 oz. Feta Cheese
1 T. Sliced Almonds
Spice Mix: ⅛ tsp. Cinnamon
¼ tsp Cumin
¼ tsp Coriander
½ tsp Oregano

---
Ground Pork
Follow same instructions as for turkey

Ahi Tuna
Pat dry and mince the tuna steak(s). Follow recipe but lower cook time to 2-4 minutes depending on your preference.

Jackfruit
Drain, rinse, squeeze out excessive moisture, and finely chop. Continue instructions as for turkey.

Beyond Beef
Follow same instructions as for turkey