Hawaiian BBQ Chicken Quesadillas
with Black Beans & Rice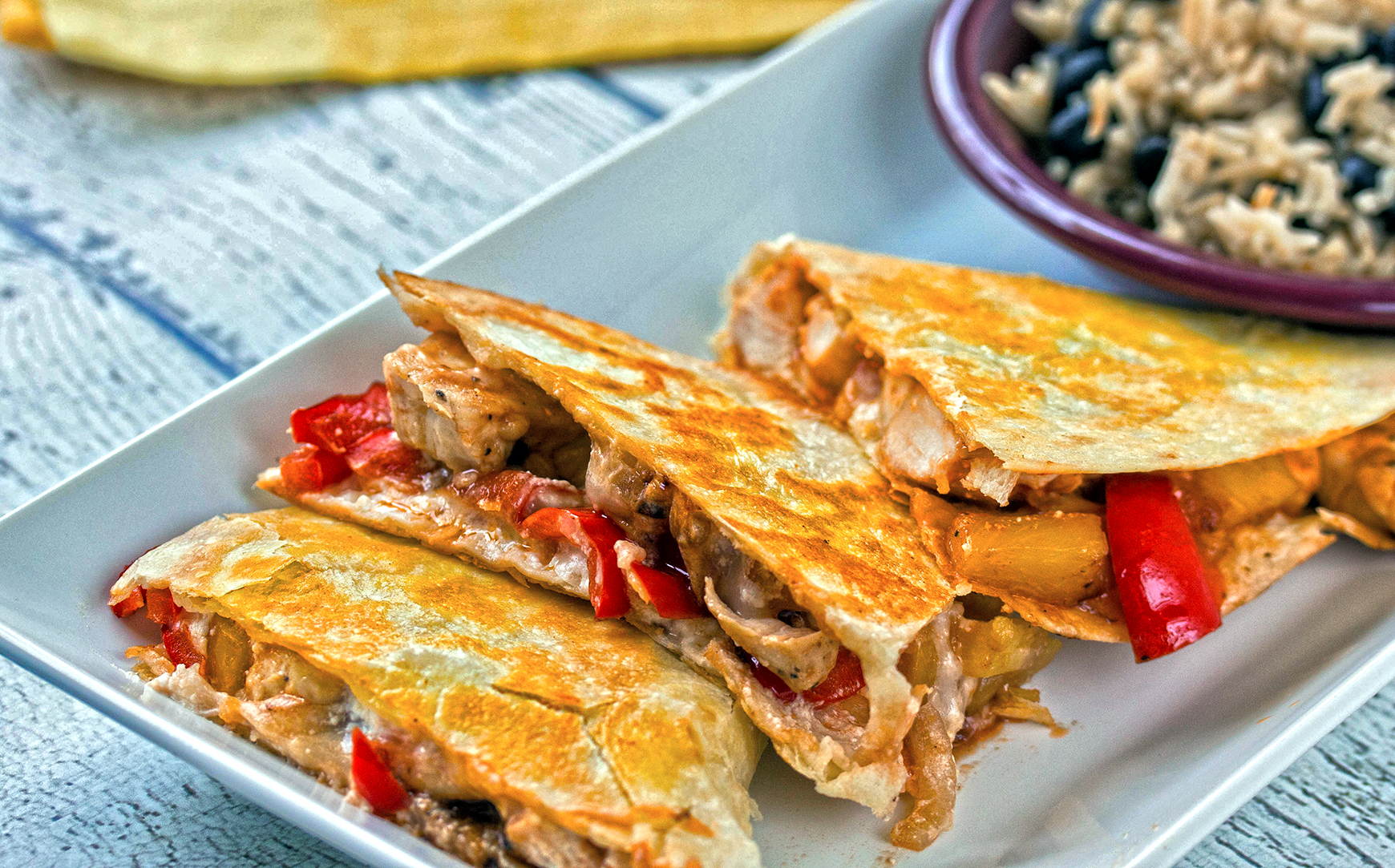 Serves : 2
Calories : 659
Ingredients
9 oz. Chicken Tenderloin
1 Garlic Clove
1 Small Yellow Onion
½ Red Bell Pepper
2 Tbsp. BBQ Sauce
1 C. Shredded Mozzarella
¼ C. Sour Cream
½ C. Pineapple Tidbits
2 Large Flour Tortillas
⅔ C. Black Beans
¼ C. White Rice
¼ tsp. Ground Cumin
⅛ tsp. Cayenne Pepper

---
Wash and Dry Your Produce
Thinly slice the onion into half moons (½ if large).
Slice ½ the bell pepper (all if small) into 1 inch pieces.
Mince 1 garlic clove and rinse the black beans.
Pat the chicken dry, cut into bite sized pieces, and season with salt and pepper.

Make the Rice
Heat 1 tsp. olive oil in a small pot over medium-high heat.
Cook the garlic and ⅓ of the sliced onion, stirring frequently, for 2 - 3 minutes.
Add the rice and saute for 2 minutes.
Add ½ cup salted water, bring to a boil, cover, and reduce heat to low.
Cook for 16-18 minutes or until water is absorbed.
Mix the cumin and cayenne into the black beans, add to the rice, mix, then cover and set aside.

Cook the Chicken
In a large pan, heat 1 tsp. olive oil over medium-high heat, swirling to coat.
When hot, add the chicken pieces, and cook 2-3 minutes per side (add oil if pan dries).
Transfer chicken to a dish and put the pan back on the burner.

Make the Quesadilla Filling
In the same pan you cooked the chicken, cook the pineapple over medium-high, until browned; 1-2 minutes.
Set aside with the chicken.
Add a little olive oil to the pan, then add the remaining onions and the peppers.
Cook, tossing occasionally, until crisp tender; 3-5 minutes.
Remove the pan from heat and allow to cool a bit.
Mix in the pineapple, chicken, and desired amount of barbecue sauce.
Transfer mixture to a dish, and wipe out the pan.

Prep the Tortillas
While the veggies cook, place tortillas on a flat, clean surface.
Spread the sour cream evenly between the tortillas, then sprinkle with mozzarella, covering them completely.

Fill and Toast the Tortillas
Heat a little olive oil in a large pan over medium heat.
When warm, place a tortilla in the pan, cheese side up for 1-2 minutes, or until cheese starts to melt.
Spoon ½ of the quesadilla filling on one side of the tortilla and fold the empty side over the filling.
Let stand 1-2 minutes, then flip and continue cooking for another 1-2 minutes.
Remove quesadilla from heat, and repeat the same process with the remaining tortilla and filling.

Plating
Serve the beans and rice on one side of each dish.
Cut quesadillas into quarters, fan around the rice and enjoy!

Serves : 2
Calories : 659
Ingredients
9 oz. Chicken Tenderloin
1 Garlic Clove
1 Small Yellow Onion
½ Red Bell Pepper
2 Tbsp. BBQ Sauce
1 C. Shredded Mozzarella
¼ C. Sour Cream
½ C. Pineapple Tidbits
2 Large Flour Tortillas
⅔ C. Black Beans
¼ C. White Rice
¼ tsp. Ground Cumin
⅛ tsp. Cayenne Pepper

---
Shrimp
Pat the shrimp dry, season with salt and pepper. Cook 1-2 minutes per side or until opaque and cooked through. Follow recipe as written.

Ground Beef
Heat a little olive oil in a pan over medium heat. Add the ground beef and use a wooden spoon to break it apart into smaller pieces. Season with salt and pepper, cook 4-5 minutes or until browned. Follow recipe as written.

Vegan Chicken
Preheat oven to bake at 450°F. Place Chickenless Breast on an ungreased baking pan.
Bake approximately 9 minutes. Flip and bake an additional 7-8 minutes until heated through.
Roughly chop and follow recipe as written.

Jackfruit
Drain, rinse, and break apart into small pieces. Heat a little oil in a pan and cook for 4-5 minutes over medium-high heat. Follow recipe as written.