Honey Teriyaki Chicken Bowl
with Sesame Lime Rice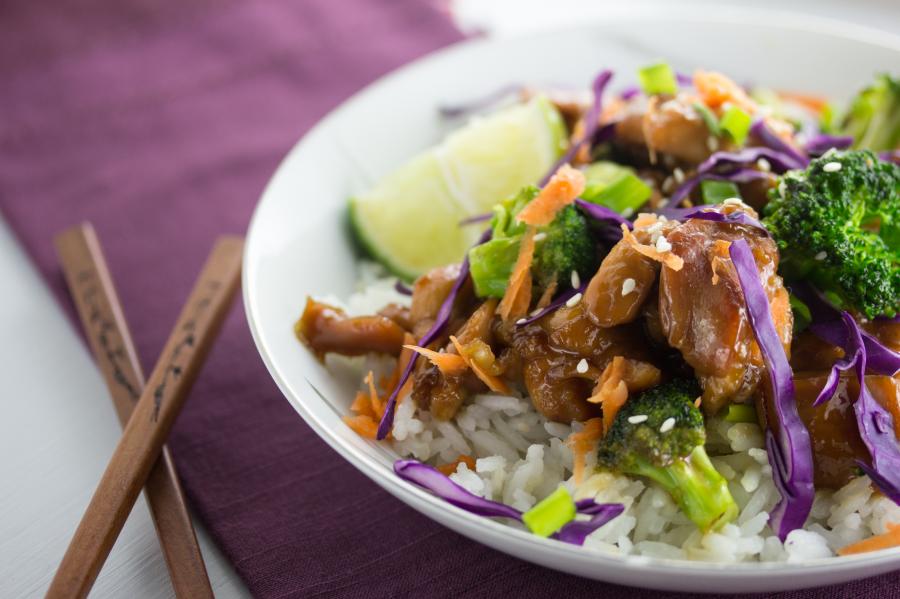 Serves : 2
Calories : 526
Ingredients
12 oz. B/S Chicken Thighs
2 Garlic Cloves
1 Green Onion
1 oz. Shredded Carrot
1.5 oz Shredded Purple Cabbage
1/2 Lime
4 oz. Broccoli Florets
½ Tbsp. Sesame Seeds
¾ Cup. Jasmine Rice
2 Tbsp Honey
3 Tbsp Teriyaki Sauce
1 Tbsp. Soy Sauce

---
Prepare Your Ingredients
Wash and dry your produce.
Mince 2 garlic cloves.
Thinly slice the green onion.
Chop broccoli into bite size pieces.

Prep the Chicken
Pat chicken dry, cut into 1 inch pieces, and place in a medium bowl.
Add the honey, teriyaki sauce, soy sauce, and garlic to bowl with chicken, and coat well.

Cook the Rice
Combine the rice, 1.5 cups water, 1 tsp. olive oil and a little salt in a pot and bring to a boil.
Reduce heat to low, stir, cover, and simmer for 15-17 minutes or until all the liquid is absorbed.
Remove from heat and set aside covered.
Add the juice of ½ lime, ½ the sesame seeds, and 1 tsp. olive oil to the rice.

Cook the Broccoli & Chicken
Heat ½ Tbsp. olive oil in a medium pan over medium-high heat.
Add the broccoli, and saute until crisp tender; 3-4 minutes then set aside on a dish.
Reduce heat to medium, and in the same pan, add the chicken and sauce.
Cook for about 10 minutes, stirring occasionally, until chicken is cooked through.
Taste, and season with salt if needed.
Remove pan from heat, add broccoli, and toss with the chicken and sauce.

Plating
Fluff the rice with a fork and divide evenly between your dishes.
Spoon chicken mixture over rice, and top with the carrots, cabbage, and green onions.
Sprinkle with remaining sesame seeds. Enjoy!

Serves : 2
Calories : 526
Ingredients
12 oz. B/S Chicken Thighs
2 Garlic Cloves
1 Green Onion
1 oz. Shredded Carrot
1.5 oz Shredded Purple Cabbage
1/2 Lime
4 oz. Broccoli Florets
½ Tbsp. Sesame Seeds
¾ Cup. Jasmine Rice
2 Tbsp Honey
3 Tbsp Teriyaki Sauce
1 Tbsp. Soy Sauce

---
Chicken Breast
Follow instructions as for chicken thighs.

Pork Chop
Follow instructions as for chicken but reduce cook time to 4-5 minutes.

Shrimp
Follow instructions as for chicken but do not chop into bite-sized pieces. Reduce cook time to 2-3 minutes.

Jackfruit
Drain, rinse, and break apart into small pieces. Heat a little oil in a pan and cook for 4-5 minutes over medium-high heat.

Tofu
Dry really well and cut into bite sized cubes. Heat 1/2 Tbsp. olive oil in a large pan over medium heat. Sauté 2-3 minutes per side or until browned and crisp. Cook the broccoli as per recipe and the toss tofu and broccoli in the teriyaki mixture before serving.

Vegan Chicken
Follow instructions as for chicken thighs.
OR
Preheat oven to bake at 450°F. Place Chickenless Breast on an ungreased baking pan. Bake approximately 9 minutes. Flip and bake an additional 7-8 minutes until heated through.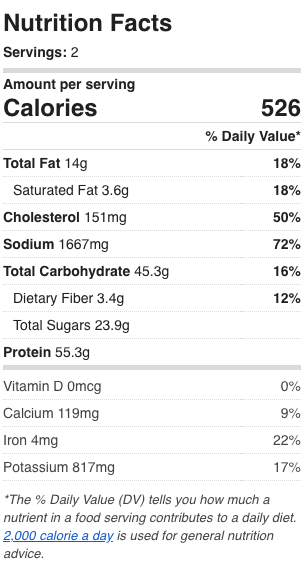 To add a nutty flavor, toast the sesame seeds in a dry pan over medium-high heat for 20 seconds or until color changes and seeds become fragrant.