Jalapeño Popper Stuffed Chicken
with Strawberry Salad & Poppyseed Vinaigrette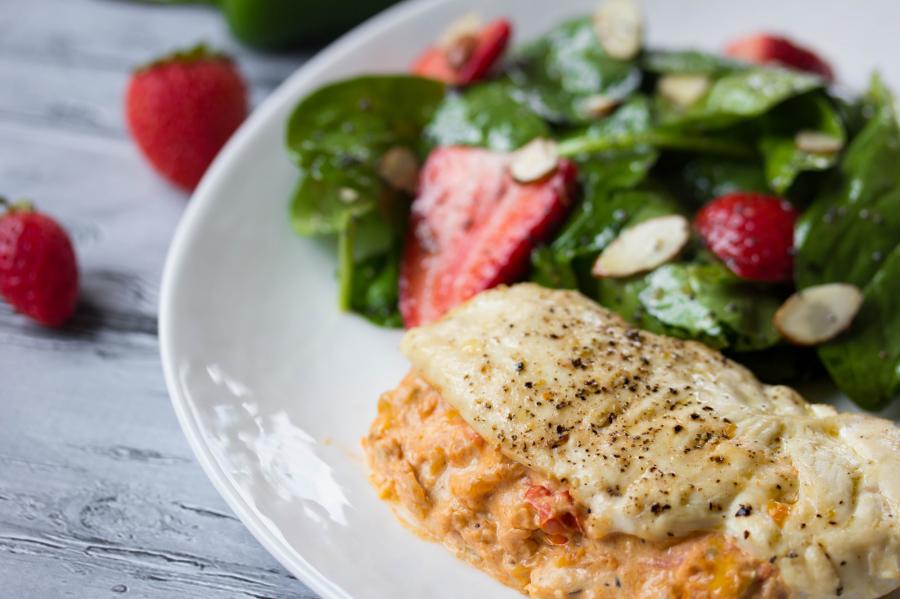 Serves : 2
Calories : 505
Ingredients
4 Chicken Tenders
½ Jalapeño
1 Shallot
1 Clove Garlic
4 oz. Strawberries
¼ C. Grape Tomatoes
2 C. Spinach
¼ C. Cream Cheese
1 oz. Cheddar Cheese
½ tsp. Smoked Paprika
1 Tbsp. Apple Cider Vinegar
1.5 tsp Honey
1 tsp Poppy Seeds
1 Tbsp. Sliced Almonds

---
Prepare Your Ingredients
Preheat oven or toaster-oven to 400° F.
Foil-line and lightly grease a baking sheet.
Wash and dry your produce.
Slice the strawberries and place in a salad bowl with the spinach and almonds.
Mince the shallot, quarter the grape tomatoes and place on a plate or small bowl.
De-seed and mince ½ of the jalapeño (use more or leave some seeds for spicier), then add to shallots and tomatoes.
Mince 1 garlic clove.

Make the Filling
Heat ½ Tbsp. olive oil in a large pan over medium heat.
Saute the shallot, jalapeno, and grape tomatoes for 5 minutes or until crisp tender.
Add the garlic and cook another 1 minute.
In a bowl, mix together the cream cheese, cheddar cheese, shallot mixture, and paprika.
When well mixed, season to taste with salt.

Stuff the Chicken
Pat the chicken dry.
With a meat tenderizer, or a heavy cup with a flat bottom, lightly pound the chicken tenders to flatten a little.
Season with salt and pepper.
Evenly spoon the cheese mixture over half of the flattened tenders, then top with the other tenders like a sandwich.

Cook the Chicken
Place the chicken on the baking sheet you prepared, and rub with a little olive oil over the tops. Bake until cooked through; about 15-20 minutes.

Make the Salad & Dressing
In a small bowl, whisk together 2 Tbsp. olive oil, the >poppy seeds, apple cider vinegar, and ¾ of the honey.
Taste and adjust to your liking with salt and pepper.
Add dressing to the salad bowl and toss.

Plating
Divide the salad between your plates, place the chicken on the side and enjoy!

Serves : 2
Calories : 505
Ingredients
4 Chicken Tenders
½ Jalapeño
1 Shallot
1 Clove Garlic
4 oz. Strawberries
¼ C. Grape Tomatoes
2 C. Spinach
¼ C. Cream Cheese
1 oz. Cheddar Cheese
½ tsp. Smoked Paprika
1 Tbsp. Apple Cider Vinegar
1.5 tsp Honey
1 tsp Poppy Seeds
1 Tbsp. Sliced Almonds

---
Vegan Chicken
Preheat oven to bake at 450°F. Place Chickenless Breast on an ungreased baking pan. Bake approximately 9 minutes. Flip and bake an additional 7-8 minutes until heated through. Top with filling and ejoy!

Portobello
Preheat oven to 400° F. Use a damp cloth to clean the tops, then remove the stem and gills from the mushrooms. Brush with olive oil and season with salt, pepper. Place in the oven gills up, topped with filling and bake for about 15-20 minutes.

Pork Tenderloin
Flatten pork to about half an inch thickness using a meat mallet, rolling pin, or wine bottle. Use in recipe just as you would for the chicken tenderloin.

Mahi-Mahi
Pat the fish dry with paper towels and season on both sides with salt and pepper to taste. Heat 1 Tbsp. olive oil in a large pan over medium- high heat. Place fish in the pan and cook 3-4 minutes per side, or until cooked through and meat flakes away when probed with a fork. Top with filling and enjoy!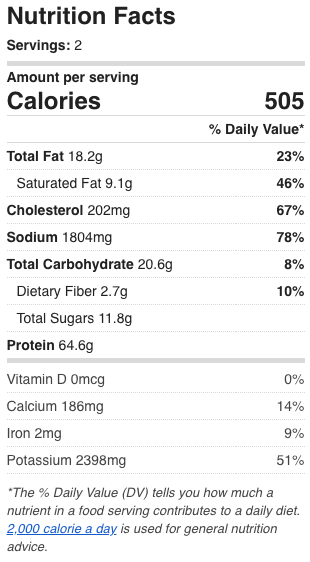 For a pretty presentation, gently core the strawberries. Then make several thin slices from the tip of each berry, being sure not to cut all the way through to the top. Then gently fan out the slices and place the berries on top of each salad serving.