Miso Glazed Salmon
with Sweet n' Salty Sushi Rice & Baby Bok Choy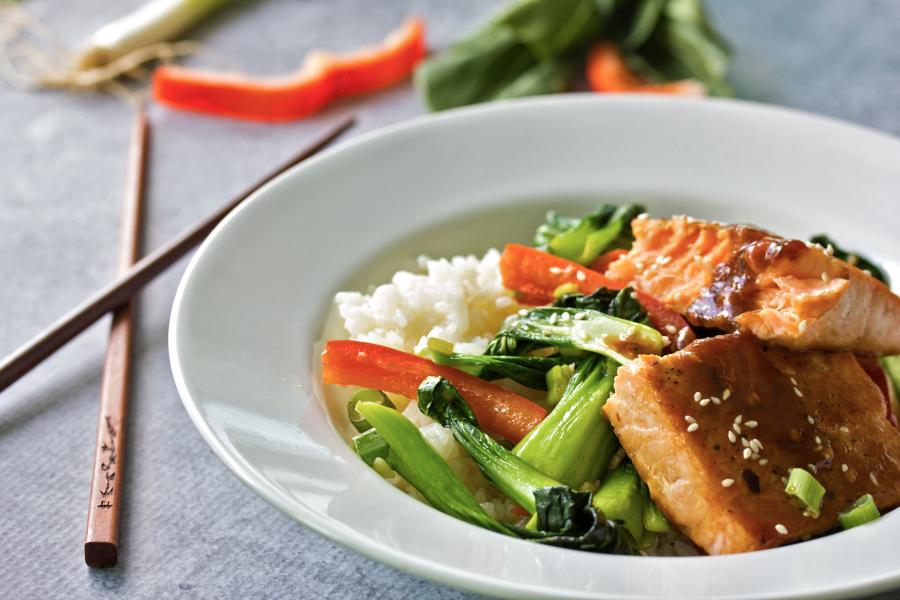 Ingredients
2 6-oz. Salmon Filets
½ C. Short-Grain Sushi Rice
2 Green Onions
2 Garlic Cloves
5 oz. Baby Bok Choy
1 Red Bell Pepper
½ t. White Granulated Sugar
½ T. Seasoned Rice Vinegar
1 Packet Red Pepper Flakes
1 tsp. Sesame Seeds
Asian Glaze
1 T. Pure Maple Syrup
1 T. White Miso
1 T. Tamari
½ T. Seasoned Rice Vinegar

Serves 2
(435 calories per serving)
Cooktime
---
Tools : Small Pot • Small Bowl • Large Pan (non-stick)
Cook the Rice and Make
Rinse the rice several times until it runs clear. Drain well.
Transfer rice to a small pot, and add ½ Cup + 2 Tbsp. of water, and a little olive oil.
Bring to a boil over high heat.
Reduce heat to low, stir, cover, and cook until rice is tender, 18-20 minutes.
Remove from heat, and let sit, covered, for 10 more minutes.
In a small bowl, whisk together the vinegar, and sugar.
Add to the rice, mix, and cover to keep warm until ready to plate.

Prep Your Ingredients
While rice cooks, wash and dry the produce.
Remove stem ends from bok choy.
Julienne the bell pepper.
Mince the garlic.
Thinly slice the green onions.
Pat salmon dry, and season lightly with salt and pepper.

Make the Miso Glaze and Toast the Sesame Seeds
Add a pinch of red pepper flakes to the asian glaze and shake to mix and complete the miso glaze.
In a large pan, and over medium heat, toast the sesame seeds until browned and fragrant; 1-2 minutes.
Set aside.

Cook the Veggies
In the same pan, heat 1 Tbsp. olive oil over medium-high heat.
When hot, add the bok choy, peppers, and white parts of the green onions.
Saute, tossing frequently until veggies are lightly browned; 4-5 minutes.
Add garlic, and cook 30 seconds, tossing frequently.
Set all veggies aside on a dish.

Cook the Salmon
Using the same pan, heat 1 Tbsp. olive oil over medium-high heat.
When hot, add the salmon and cook 2-3 mins per side.
Remove pan from heat and discard any excess oil from the pan.
Reduce heat to low, and pour the miso glaze over the salmon
Cook, stirring frequently, for about 30 secs, or until it begins to thicken.
Baste the salmon with the glaze, and remove pan from heat.

Plating
Serve rice in bowls, top with sauteed vegetables, and place salmon on top.
Drizzle with all juices left in the pan.
Sprinkle remaining green onions and sesame seeds on top. Enjoy!

Ingredients
2 6-oz. Salmon Filets
½ C. Short-Grain Sushi Rice
2 Green Onions
2 Garlic Cloves
5 oz. Baby Bok Choy
1 Red Bell Pepper
½ t. White Granulated Sugar
½ T. Seasoned Rice Vinegar
1 Packet Red Pepper Flakes
1 tsp. Sesame Seeds
Asian Glaze
1 T. Pure Maple Syrup
1 T. White Miso
1 T. Tamari
½ T. Seasoned Rice Vinegar

Serves 2
(435 calories per serving)
Cooktime
---
Chicken Breast
Pat chicken dry, and season with salt and pepper. Heat 1/2 Tbsp. olive oil over medium heat and cook 3-4 minutes per side.

Mahi-Mahi
Follow recipe

Tofu
Press until dry and cut into cubes. Add a small amount of oil to a non-stick skillet and heat over medium high heat. Add tofu to pan and brown on each side for about 1-2 minutes for a total of about 15 minutes. Continue recipe.

Vegan Fish
Toaster oven 425° F 10 minutes per side.