Pan-Seared Gorgonzola Salmon
with Lemon Butter, Spinach & Bacon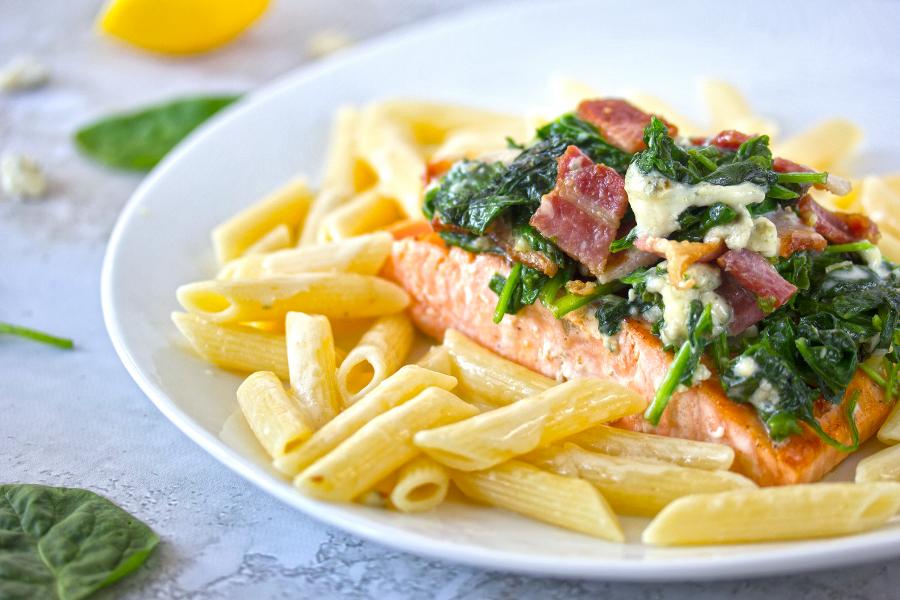 Serves : 2
Calories : 732
Ingredients
2 Salmon Fillets
2 Slices Thick-Cut Bacon
1 Small Lemon
1 Garlic Clove
4 oz. Spinach
¼ C. Dry White Wine
2 T. Heavy Cream
2 T. Unsalted Butter
2 oz. Crumbled Gorgonzola Cheese
1.5 C. Penne Pasta

---
Prepare Your Ingredients
Preheat the oven or toaster oven to 400° F.
Foil line a baking pan/sheet.
Juice 1 lemon into a small pot (use less if large)
Mince 1 garlic clove.
Roughly chop the spinach if leaves are large, discarding any thick stems.
Pat the salmon dry and season with a pinch of salt and pepper.

Make the Lemon-Butter Sauce
Heat the lemon juice in a small pot over medium heat and bring to a gentle simmer.
Add the white wine and simmer until reduced by about half; 7-9 minutes.
After it has reduced, add the cream, reduce heat to medium-low, and cook stirring occasionally for 3-5 minutes.
Reduce heat to low and whisk in the butter until completely melted and smooth.
Allow to sit on low heat, stirring occasionally until ready to serve.

Cook the Pasta
Bring a medium pot of salted water to a boil.
Add the pasta and cook for 12-15 minutes or until al dente.
Drain and set back in the pot to keep warm.

Cook the Bacon
Lay bacon flat on the baking pan without overlapping and bake for 12-15 minutes or desired doneness.
Transfer to a cutting board, pat dry with paper towels, and roughly chop.

Saute the Spinach
In a large pan, heat 1 Tbsp. olive oil over medium heat.
When hot, add the spinach, garlic, and a pinch of salt.
Cook until wilted; 1-2 minutes.
Set aside in a small bowl and mix together with the bacon and gorgonzola.

Cook the Salmon
In the same pan you cooked the spinach, heat ½ Tbsp. olive oil over medium-high heat.
Add the salmon, and cook 2-3 minutes on one side.
Flip the salmon, (add a little oil if needed) reduce heat to low, and top with the spinach mixture.
Cover pan, and cook another 3-4 minutes or until fish flakes away when probed with a fork.

Plating
Place a salmon fillet in the center of each plate and distribute the pasta around it.
Spoon the lemon butter sauce over the fish and pasta. Enjoy!

Serves : 2
Calories : 732
Ingredients
2 Salmon Fillets
2 Slices Thick-Cut Bacon
1 Small Lemon
1 Garlic Clove
4 oz. Spinach
¼ C. Dry White Wine
2 T. Heavy Cream
2 T. Unsalted Butter
2 oz. Crumbled Gorgonzola Cheese
1.5 C. Penne Pasta

---
Chicken Breast
Pat chicken dry, season with salt and pepper. Heat 1/2 Tbsp. olive oil over medium heat and cook 3-4 minutes per side. Follow recipe instructions as written.

Mahi-Mahi
Follow recipe instructions, except cook 3-4 minutes per side.

Portobello
Use a damp cloth to clean the tops, then remove the stem and gills from the mushrooms. Slice into 1/4" slices, heat 1 Tbsp. olive oil over medium heat and saute 3-4 minutes tossing occasionally.

Vegan Fish
Preheat oven to 425° F and cook 10 minutes per side. Follow recipe instructions.