Pan-Seared Swordfish
with Herb Roasted Vegetable Medley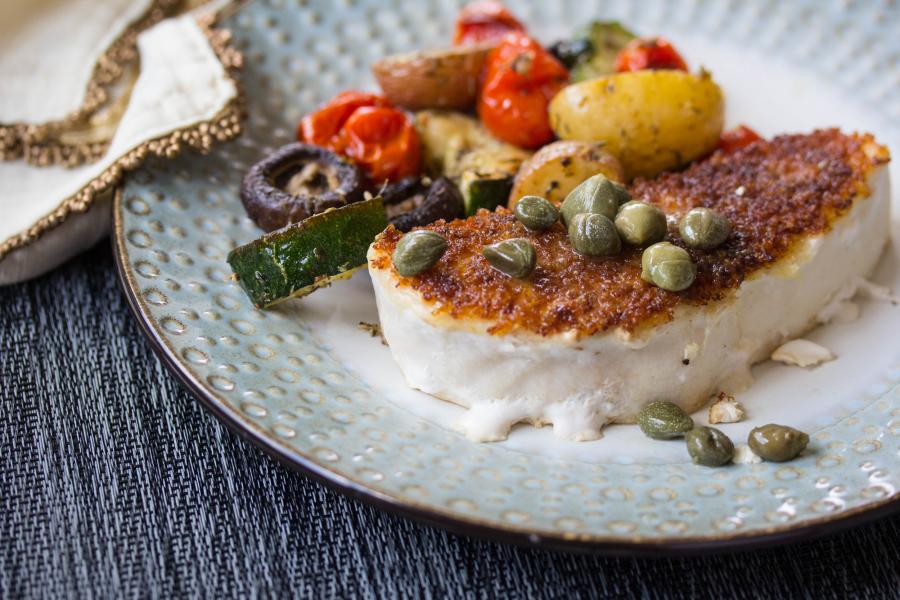 Ingredients
12 oz. Swordfish
3 oz. Baby Bella Mushrooms
4 oz. Baby Potatoes
4 oz. Grape Tomatoes
1 Zucchini
4 Cloves Garlic
1 Lemon
1 T. Capers with Juice
1 T. Butter
½ Egg
⅓ Cup Panko
1 Tbsp. Flour
Spice mix
1 tsp. Oregano
½ tsp. Thyme

Serves 2
(411 calories per serving)
---
Prepare Your Ingredients
Preheat your oven to 425° F.
Foil line and lightly grease a baking sheet/pan.
Wash and dry your fresh produce.
Add the juice of 1 lemon to the container with the capers.
Cut the zucchini in half, lengthwise, and then into ½ " pieces.
Cut the potatoes in half, quarter if large.
Discard stems from mushrooms and cut the caps in half if large.
Mince 4 cloves of garlic.

Roast the Veggies
Place the tomatoes, mushrooms, zucchini, potatoes, and garlic on prepared baking pan.
Drizzle generously with olive oil, then toss with the spice mix, salt, and pepper and spread out in a single layer.
Place in the oven and roast for about 20 minutes or until the vegetables are fork-tender (some charring is good!)

Prep the Swordfish
Pat the fish dry, trim off any skin and place on a plate.
Season with salt and pepper, then dust one side of each fillet with flour.
Beat the egg in a bowl and spread the panko out on a large dish.
Dip the flour side of the fish into the egg and place the same side of the fish into the panko.
Make sure there are no bare spots.
If needed, repeat the egg and panko steps to get a good even coat.

Cook the Fish
Heat 1 Tbsp. olive oil in a large pan (oven-proof if you have one) over medium heat.
Add the fish, breaded-side down, and cook for about 3 minutes.
Rotate the fillets, and swirl the pan gently so the oil cooks it evenly.
Cook until a deep golden brown crust is achieved; about 3 minutes longer (add oil if pan dires).
Gently flip the fish over, and cook breaded-side up, for about 1 minute.
Remove pan from heat and set aside, (transfer fish to an ovenproof dish if needed).

Finish the Fish & Make the Lemon Butter
When the veggies have roasted for 20 minutes, turn the oven down to 300° F.
Place the fish in the oven along with the veggies and bake until cooked through; 5-7 minutes.
Remove veggies and fish from pan and divide between your plates.
Heat the same pan you used for the fish over medium-high heat.
Pour the lemon juice and capers into the pan and simmer for 30 seconds.
Use a wooden spoon to scrape the browned bits from the pan bottom.
Add the butter, remove pan from heat, and stir until combined.

Plating
Pour the lemon caper butter over the top of your fish. Enjoy!

Ingredients
12 oz. Swordfish
3 oz. Baby Bella Mushrooms
4 oz. Baby Potatoes
4 oz. Grape Tomatoes
1 Zucchini
4 Cloves Garlic
1 Lemon
1 T. Capers with Juice
1 T. Butter
½ Egg
⅓ Cup Panko
1 Tbsp. Flour
Spice mix
1 tsp. Oregano
½ tsp. Thyme

Serves 2
(411 calories per serving)
---
Chicken Breast
Follow instructions as for swordfish, except adjust oven cooking time to 3-5 minutes.

Mahi-Mahi
Follow instructions as for swordfish.

Shrimp
Follow instructions as for swordfish, dipping the shrimp and breading if desired.
Fry the shrimp, cooking 1-2 minutes until golden browned, set on paper towel to drain fat.
Do not bake the fish, add to the veggies when they are done roasting and serve.

Pork Chop
Follow instructions as for swordfish, except reduce cook time int he pan 1-2 minutes. Adjust oven cooking time in oven to 3-5 minutes.

Tofu
Press until dry and cut horizontally into 1/2" slices. Dust with flour on all sides and season with salt and pepper (omit panko and egg) Add olive oil to a non-stick pan and heat over medium heat. Add tofu to pan, and cook until crisp and browned on all sides. Remove from pan to make sauce.

Vegan Fish
Toaster oven 425° F 10 minutes per side.