Panko Crusted Honey Mustard Salmon
with Roasted Brussels Sprouts & Mushrooms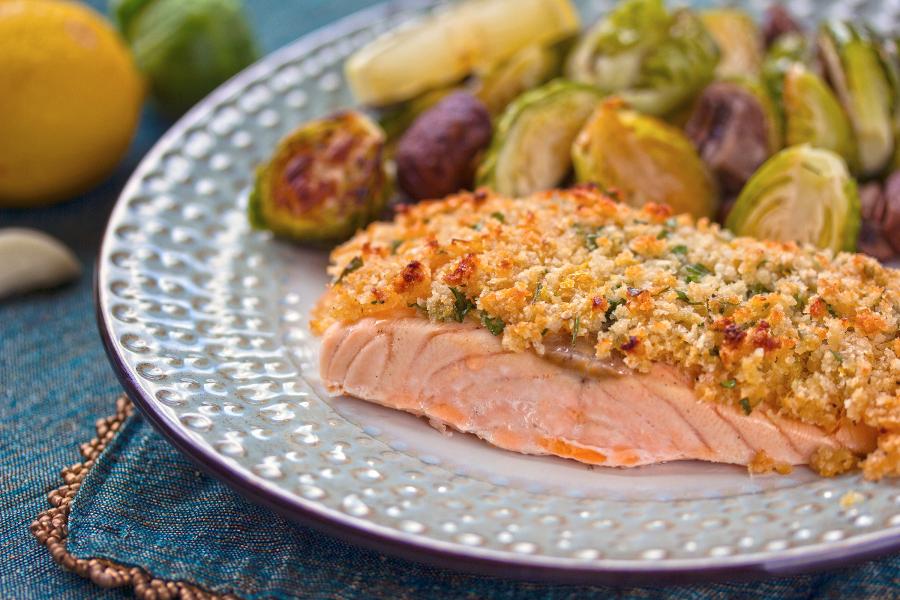 Ingredients
2 (6 oz) Salmon Fillets
3 Garlic Cloves
1 T. Parsley
1 Lemon
5 oz. Bella Mushrooms
9 oz. Brussels Sprouts
2 T. Butter
1 T. Dijon Mustard
1 Packet Honey
1/4 C. Panko Bread Crumbs

Serves 2
(516 calories per serving)
Cooktime
---
Tools : (2) Baking Sheets • Med. Bowl • Microplane • Sm. Bowl
Prepare Your Ingredients
Preheat oven to 400° F.
Foil-line 2 baking sheets/pans.
Wash and dry the produce.
Mince 3 cloves garlic.
Remove mushroom stems and trim the root end of the brussels sprouts.
Quarter the mushrooms and brussels sprouts (or halve them if small), then transfer to first baking pan.
Roughly chop the parsley to make about 1 Tbsp. and place in a medium bowl.
Use a zester or grater to zest the lemon over the parsley, making sure to avoid the bitter white pith under the peel.
Pat the salmon dry and season with salt and pepper.

Roast the Veggies
In a small bowl, add the butter and 2/3 of the garlic, then microwave until melted; about 20 seconds.
Add 1 Tbsp. olive oil and mix in.
Drizzle mushrooms and brussels sprouts with garlic-butter mixture, then season with salt and pepper.
Toss veggies to coat evenly, then roast on the middle rack for 20-22 minutes.

Make the Panko Topping
Add the dijon, honey, remaining garlic and the panko to the bowl with the parsley & lemon zest.
Add 1 Tbsp. olive oil then mix together and season with salt and pepper to taste.

Prep and Bake Salmon
Lightly grease the 2nd baking sheet/pan and place the salmon fillets on it.
Coat the tops of each fillet with the honey-mustard mixture pressing to adhere.
Place in the oven on the top rack and bake for 12 minutes.
Turn your broiler to high and cook watching carefully for another 1-2 minutes or until panko topping is crispy and golden brown.

Plating
Place a salmon fillet on each dish and serve veggies on the side.
Serve with lemon wedges on the side and squeeze a little over the fish for added flavor if desired. Enjoy!

Ingredients
2 (6 oz) Salmon Fillets
3 Garlic Cloves
1 T. Parsley
1 Lemon
5 oz. Bella Mushrooms
9 oz. Brussels Sprouts
2 T. Butter
1 T. Dijon Mustard
1 Packet Honey
1/4 C. Panko Bread Crumbs

Serves 2
(516 calories per serving)
Cooktime
---
Mahi-Mahi & Chicken Breast
Follow recipe instructions.

Vegan Fish
Preheat oven or toaster oven to 425° F. Bake 10 minutes and flip. Top with honey-mustard mixture and continue recipe instructions.

Tofu
Slice in half and press between paper towels to remove excess moisture. Follow recipe instructions, except increase bake time to 15 minutes.