Shrimp Fettuccine Alfredo
with Garlic Roasted Green Beans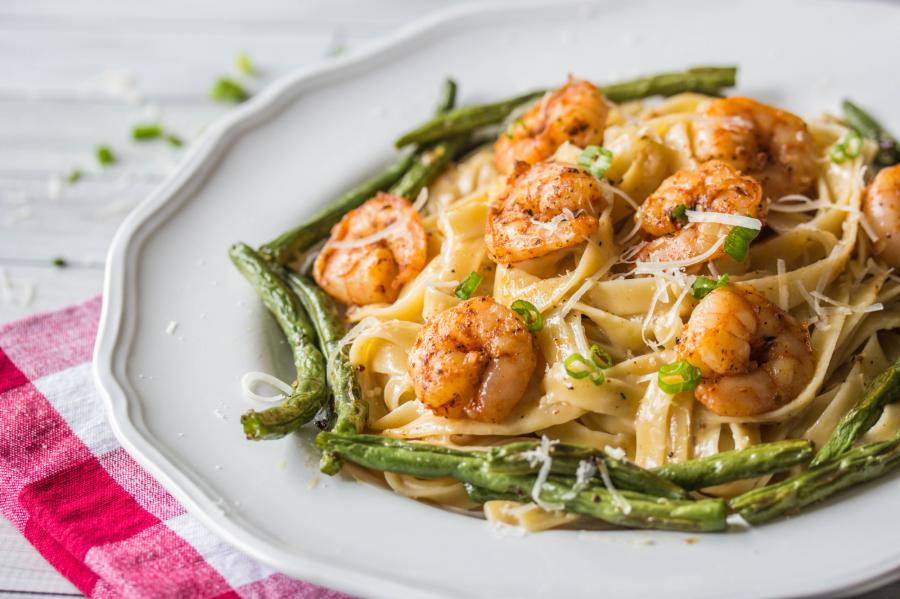 Serves : 2
Calories : 607
Ingredients
8 oz. Shrimp
½ lb. Green Beans
1 Green Onion
3 Garlic Cloves
5 oz. Fettuccine
1 T. Unsalted Butter
½ Packet Blackened Seasoning
1 oz. White Wine
1/2 C. Heavy Cream
1/2 C. Parmesan

---
Prepare Your Ingredients
Preheat oven to 400° F.
Wash and dry your fresh produce.
Foil-line and lightly grease a baking sheet/pan.
Bring a medium pot of salted water to a boil.
Mince 3 garlic cloves.
Trim the tips of the green beans if needed.
Thinly slice the green parts of the green onion(s).

Roast the Beans
Place the green beans on your baking sheet and toss to coat with olive oil and ⅔ of the minced garlic.
Season generously with salt and pepper then toss again.
Roast 18-20 minutes, flipping them halfway through.

Cook the Fettuccine
Add a little olive oil and the pasta, to the boiling water.
Cook, stirring occasionally about 15 minutes, or until al dente.
Drain, reserving 2 Tbsp water in the pot.
Return pasta to pot, cover, and set aside.

Cook the Shrimp
Pat the shrimp dry and season with desired amount of blackened seasoning.
Melt ½ of the butter in a large pan (not non-stick if you have one) over medium-high heat.
When melted, add the shrimp and cook 1-2 minutes per side or until opaque and cooked through.
Remove shrimp and set pan aside to cool down.

Make the Alfredo Sauce
Reduce heat to medium, and in the same pan you cooked the shrimp, add 1 tsp. olive oil.
Saute the remaining garlic for 30 seconds.
Deglaze the pan by adding the white wine and simmering until reduced by half.
Stir occasionally with a wooden spoon scraping up any browned bits from the pan bottom. When the wine has reduced, add the cream and remaining butter.
Reduce heat to a simmer and cook, stirring frequently, 2-3 minutes or until sauce begins to thicken.
Remove pan from heat and stir in the parmesan cheese until melted.

Plating
Toss the pasta in the pot to loosen up, then add it to the pan with the sauce and mix well.
Divide the pasta between your dishes, top with the shrimp and green onions.
Place green beans alongside the pasta and enjoy!

Serves : 2
Calories : 607
Ingredients
8 oz. Shrimp
½ lb. Green Beans
1 Green Onion
3 Garlic Cloves
5 oz. Fettuccine
1 T. Unsalted Butter
½ Packet Blackened Seasoning
1 oz. White Wine
1/2 C. Heavy Cream
1/2 C. Parmesan

---
Chicken Tenderloin
Follow instructions as for shrimp but cut into bite-sized pieces and increase cook time to 3-4 minutes per side.

Pork Chop
Follow instructions as for shrimp but cut into bite-sized pieces and increase cook time to 3-4 minutes per side.

Mahi-Mahi
Follow instructions as for shrimp but increase cook time to 3-4 minutes per side

Vegan Shrimp
Follow instructions as for shrimp except increase cook time to 2-3 minutes per side.

Tofu
Press until dry, cut into cubes and toss gently with blackened seasoning. Add a small amount of oil to a non-stick skillet and heat over medium high heat. Add tofu to pan and brown on each side for about 1-2 minutes for a total of about 15 minutes.