Skillet Chicken
with 3 Mustard Cream Sauce & Roasted Vegetable Medley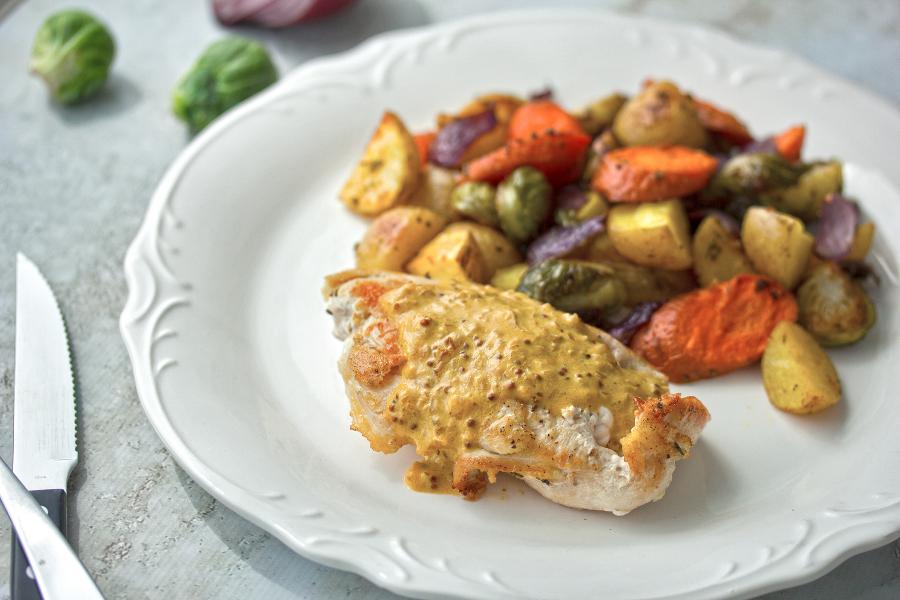 Serves : 2
Calories : 603
Ingredients
2 Chicken Breasts
1 Garlic Clove
1 Shallot
2 fl. oz. Heavy Cream
4 fl. oz. Chicken Broth
1 Small Red Onion
8 oz. Marble Potatoes
1 Carrot (~4 oz)
6 oz. Brussels Sprouts
1 Large Sprig of Rosemary
Spice Mix:
½ t. Garlic Powder
½ t. Onion Powder
Mustard Blend:
1 T. Dijon Mustard
1/2 T. Grainy Mustard
1 T. Yellow Mustard

---
Prepare Your Ingredients
Wash and dry your produce. Preheat the oven to 450° F.
Foil-line and lightly grease a baking pan / sheet.
Mince 1 clove of garlic.
Mince the shallot.
Trim the stem end of the brussel sprouts and then cut in half.
Peel the carrot and slice at an angle into ¾ inch slices.
Finely chop the rosemary.
Slice the onion into 1 inch wedges (use ½ if large).

Roast the Veggies
On the prepared baking pan, place the potatoes, brussel sprouts, carrots and onion.
Drizzle generously with olive oil and season with salt, pepper, spice mix and the rosemary.
Roast 30 minutes tossing to mix after 15 minutes.

Cook the Chicken & Make the Sauce
Pat the chicken dry, and season on both sides with salt and pepper.
Heat 1 Tbsp olive oil in a medium pan (not non stick if you have one) over medium-high heat.
Sear the chicken, cooking 3 - 5 minutes per side.
Remove chicken from pan and allow to rest.
Add ½ Tbsp olive oil to the pan if needed and saute garlic and shallots for 1 minute stirring constantly.
Add the chicken broth and simmer stirring occasionally with a wooden spoon until reduced by half; 1 to 3 minutes.
Turn the heat to low, add the heavy cream, and whisk vigorously.
Stir the mustard blend into the sauce, and season with salt and pepper to taste.
Place the chicken back into the sauce to simmer for about 1 minute and remove from heat.

Plating
Divide the roasted veggies between your plates and place one chicken breast beside them.
Pour the remaining mustard sauce on top of the chicken. Enjoy!

Serves : 2
Calories : 603
Ingredients
2 Chicken Breasts
1 Garlic Clove
1 Shallot
2 fl. oz. Heavy Cream
4 fl. oz. Chicken Broth
1 Small Red Onion
8 oz. Marble Potatoes
1 Carrot (~4 oz)
6 oz. Brussels Sprouts
1 Large Sprig of Rosemary
Spice Mix:
½ t. Garlic Powder
½ t. Onion Powder
Mustard Blend:
1 T. Dijon Mustard
1/2 T. Grainy Mustard
1 T. Yellow Mustard

---
Pork Chop
Follow recipe instructions.

Mahi-Mahi
Follow recipe instructions, except adjust cooking time to 3-4 minutes per side.

Vegan Chicken
Preheat oven to bake at 450°F. Place Chickenless Breast on an ungreased baking pan. Bake approximately 9 minutes. Flip and bake an additional 7-8 minutes until heated through. Add to the sauce and simmer 1 minute as instructed.

Tempeh
Boil 10 minutes in water/broth then season and sear 2 minutes per side over medium-high. Continue recipe.