Tex-Mex Skillet Lasagna
with Black Beans, Corn, & Ground Beef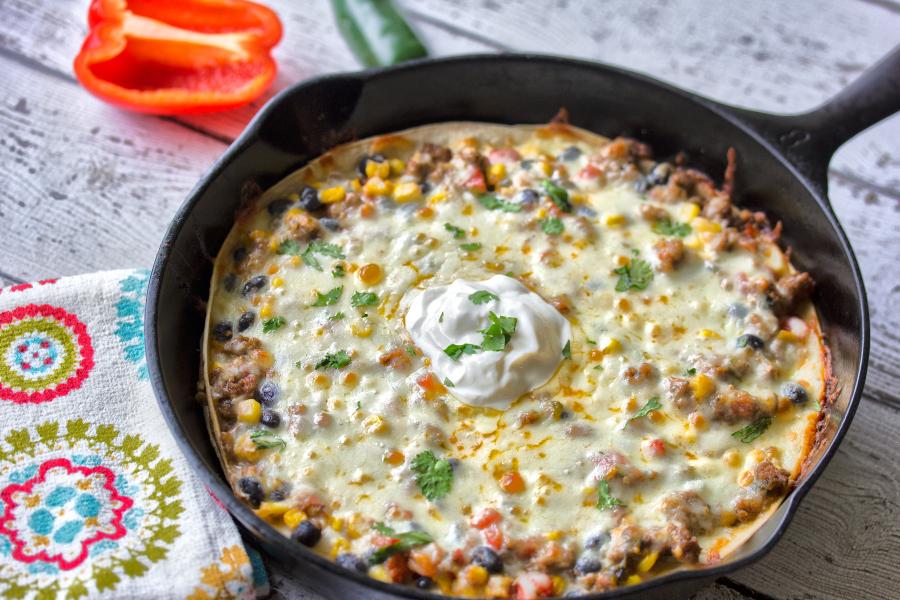 Ingredients
10 oz. Ground Beef
2 Garlic Cloves
10 Sprigs Cilantro
1 C. Diced Yellow Onion
½ Bell Pepper
½ Jalapeno Pepper
2 Plum Tomatoes
3 Large Tortillas
¼ C. Sour Cream
¾ C. Black Beans
¾ C. Sweet Corn
½ T. Honey
1.5 C. Shredded Mozzarella
Taco Spice:
2 t. Oregano
2 t. Onion Powder
1 t. Chili Powder
1 t. Cumin
1 t. Garlic Powder

Serves 2
(594 calories per serving)
Cooktime
---
Tools : Large Pan • Large Skillet / Baking Dish
Prepare Your Ingredients
Wash and dry your produce.
Preheat oven to 425° F.
Mince 2 garlic cloves.
Deseed and small dice ½ the bell pepper (more if small) and ½ jalapeno (more for spicier).
Roughly chop cilantro to make about ¼ cup.
Rinse and drain the corn and beans.
Small dice the tomatoes.

Cook the Beef and Veggie Filling
Heat 1 tsp. olive oil in a large pan over medium high heat.
Add the ground beef, onion, garlic, bell pepper and jalapeño.
Cook mixing occasionally for about 5 minutes, or until meat is cooked through.
Mix in the taco spice, ⅔ of the cilantro, and salt and pepper to taste.
Add the tomatoes, 1-2 Tbsp. water, and the honey.
Mix, lower heat, and allow to simmer for 3-4 minutes.
Add the black beans, corn, and ⅓ of the mozzarella.
Mix well, then remove from heat.

Assemble the Lasagna
Place one tortilla on the bottom of a 10" ovenproof skillet or small baking dish.
If you have a different size pan or skillet, just carve the tortillas to the correct size.
Spoon a portion of the beef mixture onto the tortilla until it is evenly covered.
Place another tortilla over the mixture, and spoon more of the mixture on top.
If you have remaining filling, you can make an additional layer.
Sprinkle top layer with the remaining mozzarella cheese.

Bake the Lasagna
Place the lasagna on the top rack of the oven, and bake for 10-15 minutes.

Plating
Slice desired size piece of lasagna and serve.
Spoon a dollop of sour cream on top, and sprinkle with remaining cilantro.
Enjoy!

Ingredients
10 oz. Ground Beef
2 Garlic Cloves
10 Sprigs Cilantro
1 C. Diced Yellow Onion
½ Bell Pepper
½ Jalapeno Pepper
2 Plum Tomatoes
3 Large Tortillas
¼ C. Sour Cream
¾ C. Black Beans
¾ C. Sweet Corn
½ T. Honey
1.5 C. Shredded Mozzarella
Taco Spice:
2 t. Oregano
2 t. Onion Powder
1 t. Chili Powder
1 t. Cumin
1 t. Garlic Powder

Serves 2
(594 calories per serving)
Cooktime
---
Ground Turkey, Pork, Beyond Beef
Prepare same as for ground beef.

Jackfruit
Break apart into small pieces. Prepare same as for ground beef.

View Cooking Video