Vodka Sauce Penne
with Sweet Italian Sausage & Spinach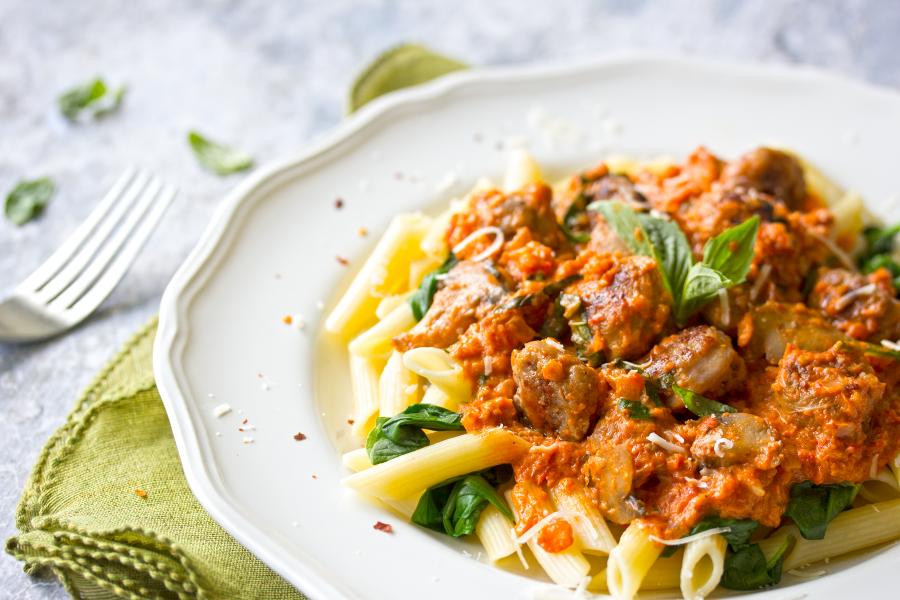 Serves : 2
Calories : 605
Ingredients
2 Sweet Italian sausages
1 C. Diced Yellow Onion
2 T. Basil
2 Garlic Cloves
2 oz. Sliced Mushrooms
3 oz. Spinach
¼ C. Parmesan
5 oz. Penne
Red Pepper Flakes
1 C. Crushed Tomatoes

---
Prepare Your Ingredients
Wash and dry your produce.
Bring a medium pot of salted water to a boil.
Mince the onions.
Slice sausages into ¼ inch thick rounds.
Mince 2 garlic cloves.
Thinly slice the basil to make about 2 Tbsp.

Cook the Pasta & Wilt the Spinach
Add the pasta to boiling water and cook until tender; 15-16 minutes.
When pasta is done cooking, reserve 2 tbsp of cooking water in the pot, drain the pasta, and place back in pot, covered, to keep warm.

Cook the Sausage
Meanwhile, heat a medium pan (not non-stick if you have one) with a little olive oil, over medium heat.
Add sausage slices and cook 4-5 minutes per side, or until cooked through.
Remove sausage from pan and set aside.
Add mushrooms to the same pan, cook until tender; 2-3 mins, then set aside with the sausage.
Wipe pan to remove excess grease if any.

Make Vodka Sauce
In the same pan, heat 1 Tbsp. olive oil over medium heat.
Once hot, add the onions, a little salt, and red pepper flakes to taste.
Cook, stirring frequently until the onions are soft and golden; 3-4 minutes.
Add the garlic and cook about 30 seconds.
Add the crushed tomatoes and cook, stirring occasionally for 2-3 minutes.
Add the vodka, reduce heat to med-low, and cook until the sauce has reduced by half; 5 to 7 minutes.
Stir in the cream and cook until the sauce thickens, about 2 minutes.
Season with salt and pepper to taste.
Stir in ½ the basil and all but 1 Tbsp of parmesan.
Remove from heat.
Add the spinach, mushrooms and sausage to the sauce and toss.

Plating
Toss the pasta with the reserved water to loosen up. Divide the pasta between your dishes, and top with the sauce.
Top with reserved cheese and remaining basil. Serve immediately and enjoy!

Serves : 2
Calories : 605
Ingredients
2 Sweet Italian sausages
1 C. Diced Yellow Onion
2 T. Basil
2 Garlic Cloves
2 oz. Sliced Mushrooms
3 oz. Spinach
¼ C. Parmesan
5 oz. Penne
Red Pepper Flakes
1 C. Crushed Tomatoes

---
Chicken Sausage & Vegan Sausage
Follow instructions as for Italian Sausage.

Jackfruit
Drain, rinse, and break apart into small pieces. Cook same as instructed for sausage, and continue recipe.